Page 2 - A Closer Look, Test System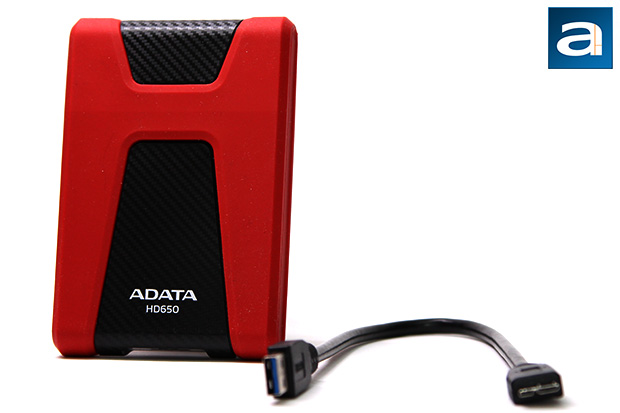 Looking at the ADATA DashDrive Durable HD650 500GB, there are a lot of elements I like with the design. First thing that will catch your eye is probably the bright red silicone cover around the entire hard drive. This wraps all around the drive, and gives the HD650 a very good feel in the hand. It provides an area for you to grip your hands around, while still being smooth. This red cover forms an "H" around the entire enclosure, which reminds me of the bright red Hummer which was shown with the ADATA DashDrive Durable HD650 500GB on the manufacturer's website. The rubber on top is not completely attached, but it takes quite a bit of effort to actually remove it. Underneath the red rubber is another standard black plastic-covered hard drive. Where the rubber does not cover, ADATA has added a sort of carbon fiber look and feel, which also feels quite good in the hands. This part is very smooth, but because of the covering, it is very resistant to fingerprints and smudges, which means the DashDrive Durable HD650 will always look great. Unfortunately, as the silicone covering is very grippy, it attracts dust and particles. Overall, I think ADATA has produced a great looking drive that does not add too much bulk in comparison to other external hard drives.
When I measure the cable, I get approximately 336mm in length, which is generally long enough for most users. However, there will be the odd user or two that will need a longer cable, and will have to purchase an additional one or an extension cable. The cable provided from ADATA is a standard Micro USB 3.0 to USB 3.0 cable, which is common with quite a few USB 3.0 external hard drives. Actually, a lot of hard drives use Micro USB in general, rather than a full USB, as it is smaller than a full USB port. With Micro USB 3.0, it is actually approximately the same width as the full-sized version, but the input is not as long, so it is understandable why this was used. Just for your information, Micro USB 3.0 is backwards compatible, as the left side of the port is the exact same as its 2.0 counterpart. The input exists on the bottom of the hard drive, where there is a small divot as seen in the picture. Underneath the ADATA logo also exists a small blue activity LED. It stays lit when powered on, and blinks during disk activity, whether read or write.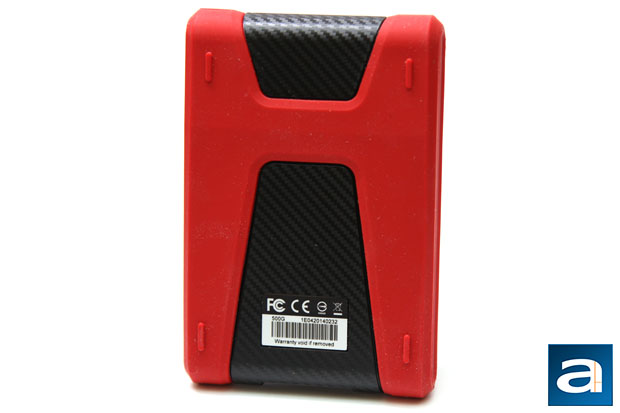 Flipping the hard drive to the backside, we can see there are four nubs sticking out from the rubber. Because of the material used, the nubs actually hold the hard drive in place quite well, as the HD650 is quite resistant to slips. This is another way ADATA has prevented this DashDrive from sliding off the table. This also raises the entire hard drive from the surface, so the ADATA DashDrive Durable HD650 is also less prone to scratches. The same carbon-fiber looking coating follows around the back to also prevent users from seeing any scratches or smears. Overall, in terms of ruggedness, I am sure this hard drive is able to take a few small knocks or bumps without any issue. While I do not doubt ADATA's claim to be an impact resistant drive, this is still a mechanical disk, which is a lot more vulnerable to physical damage in comparison to flash-based storage like SSDs or USB sticks. Thus, you really shouldn't intentionally drop it, no matter how small the fall is. Knocking on the hard drive enclosure produces a somewhat hollow-like sound, which tells me the hard drive is not stuck directly to the side, but rather there is some sort of cushioning on the inside. According to ADATA, there are three layers, two of them visible on the outside as the silicone and the plastic encasement, and probably some sort of cushion internally.
Measuring at 121mm in length, 81mm in width, and 21mm in thickness, the ADATA DashDrive Durable HD650 500GB is surprisingly small, considering this is a shockproof hard drive. In fact, it is only a few millimeters bigger in all dimensions than the other DashDrive we have reviewed, the ADATA DashDrive HV620 1TB, which is a slim and portable hard drive. The 201g weight feels good in the hands, and while it is not the lightest, it feels sturdy and solid.
Inside the enclosure is a 2.5" hard drive, and is powered by the USB 3.0 cable rather than an external AC adapter. The HD650's enclosure is pretty difficult to remove, as it is held in the center, unlike the Silicon Power Armor A30 1TB. Using our handy software tool AIDA64 Engineer, we find a Toshiba MQO1ABF050 residing inside. The Toshiba MQO1ABF050 is a 500GB 5400RPM SATA 3.0Gb/s 2.5" laptop hard drive with 8MB cache. Inside is a single platter, thus at 500GB in one platter, it is quite dense, and should translate into pretty good speed returns in benchmarking -- which is our next issue at hand. Also, if you look over at the Silicon Power Armor A30 1TB, you will notice, besides the total capacity, the specifications are quite similar, so it should be a tight race between the two. As these hard drive reviews are being released at the same time by Yours Truly, you will find both results on the next pages of graphs.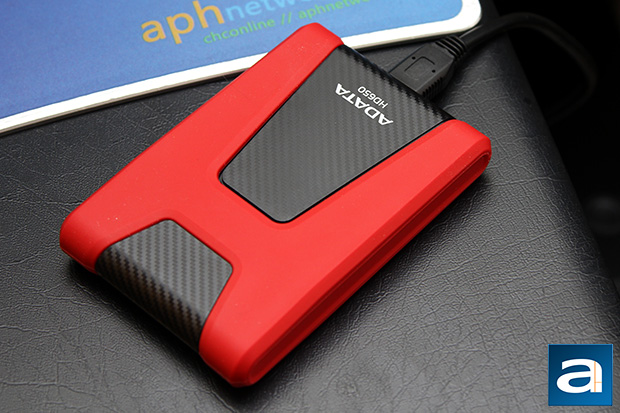 Our test configuration as follows:
CPU: Intel Core i5-2500K @ 4.50GHz
CPU Cooling: Thermaltake WATER2.0 Pro (Noctua NF-F12)
Motherboard: ASUS P8P67 WS Revolution
RAM: G.Skill Ripjaws-X F3-14900CL9D-8GBXL 4x4GB
Graphics: Gigabyte Radeon HD 7870 2GB OC
Chassis: Lian Li PC-B12
Storage: OCZ Vertex 3 Max IOPS 240GB; Western Digital Caviar Blue AAKS 500GB
Power: PC Power & Cooling Silencer Mk III 1200W
Sound: Auzentech X-Fi Bravura
Operating System: Microsoft Windows 7 Professional x64 SP1
Compared Hardware:
- ADATA DashDrive Durable HD650 500GB (USB 3.0)
- ADATA DashDrive Elite UE700 64GB (USB 3.0)
- ADATA DashDrive HV620 1TB (USB 3.0)
- Kingston DataTraveler Locker+ G2 32GB (USB 2.0)
- Kingston DataTraveler Locker+ G3 32GB (USB 3.0)
- Kingston DataTraveler HyperX 3.0 64GB (USB 3.0)
- Kingston DataTraveler Ultimate 3.0 G2 32GB (USB 3.0)
- Kingston DataTraveler Ultimate 3.0 G3 32GB (USB 3.0)
- Kingston DataTraveler Vault Privacy 3.0 32GB (USB 3.0)
- OCZ Rally2 Turbo 4GB (USB 2.0)
- Patriot Supersonic Magnum 64GB (USB 3.0)
- Patriot Supersonic Rage XT 32GB (USB 3.0)
- Patriot Stellar 64GB (USB 3.0)
- Silicon Power Armor A30 1TB (USB 3.0)
---
Page Index
1.
Introduction and Specifications
2. A Closer Look, Test System
3.
Benchmark: AIDA64 Disk Benchmark
4.
Benchmark: ATTO Disk Benchmark
5.
Benchmark: Crystal Disk Mark 3.0
6.
Benchmark: HD Tach 3.0.1.0
7.
Benchmark: HD Tune Pro 4.60
8.
Conclusion