Page 2 - A Closer Look, Test System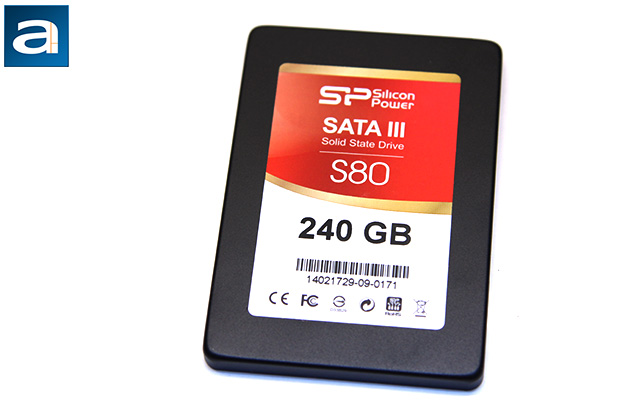 The Silicon Power Slim S80 240GB is based on Phison's PS3108-S8 controller. But before we dig down into the ever so important technical details, let us briefly discuss the physical attributes of the SSD first. The Silicon Power Slim S80 240GB has a very simple appearance. On top of the flat metal casing is a large label across the center to ensure the user will make no mistake about its brand, model, and capacity. In case you have missed it, this is the Silicon Power Slim S80 SATA 6Gb/s solid state drive in the 240GB variant, haha. Meanwhile, the usual array of regulatory symbols are laid out across the bottom. Its red, gold, and white color scheme is just like the retail packaging we have seen on the previous page.
Measuring in at 100.5 mm x 69.85 mm x 7.0 mm, the "Slim" S80 lives up to its name, and will ensure wide compatibility. If, for some reason, a full 9.5 mm is needed for installation, a rubber spacer will be included out of the box. On the other hand, if you want to use it in your desktop and your chassis has no 2.5" mount, then you are in luck -- a 3.5" adapter bracket is also included, so you can easily install this SSD in any standard desktop internal drive bay. This makes the Slim S80 quite convenient to deploy in either environments for the end user. Nowadays, it is hard to find a case without a 2.5" drive bay, but if you ever want to retrofit this SSD into an older desktop, it is nice the company included such an accessory, especially considering most value products do not.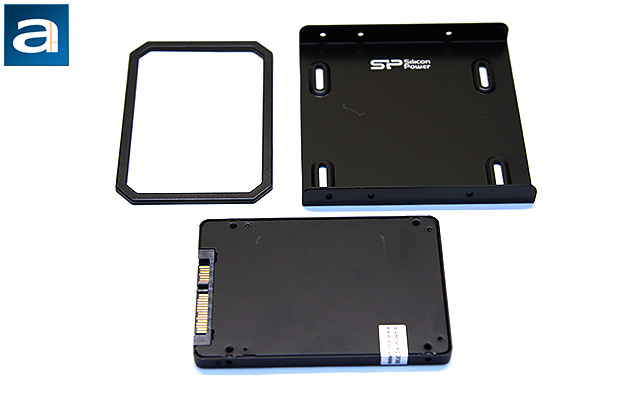 Turning the SSD around reveals a flat black metal backplate. This is something users will come to expect from a solid state drive, as there are no exposed printed circuit boards like you would normally see with a traditional hard disk. The only thing that is common between the Silicon Power Slim S80 240GB SSD and a traditional hard disk drive is its SATA 6Gb/s and corresponding power connector at the end. As shown in our photo above, there is a warranty seal over one of the edges, so you cannot disassemble it without voiding your three year warranty. There are no user serviceable parts inside. In case you are just curious about the components, let us do the deed instead.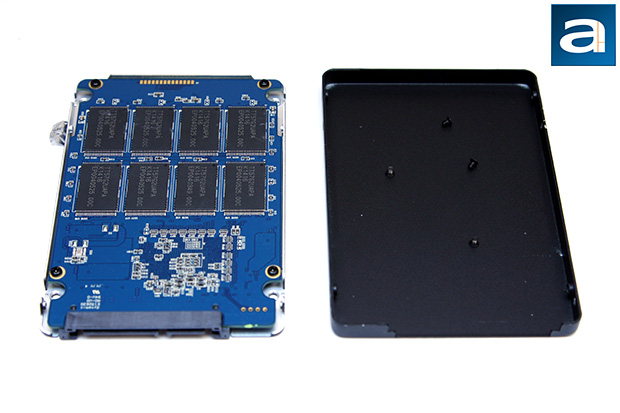 The Silicon Power Slim S80 240GB has a separate top and bottom plate, and is attached to the metal frame by four small screws on each panel. There is a warranty seal on the back, so in order to take a peek inside the SSD, you will have to inevitably void your three year warranty. To save you some trouble, I cracked mine open to take some photos of its internals for you to see.
As we have alluded to before, the Silicon Power Slim S80 240GB uses Phison's PS3108-S8 flash controller. It is built on the 55nm fabrication process, and features a 72-bit ECC scheme. This is the same controller used in a number of competitor products, such as the Patriot Blaze, Kingston V310, and Corsair Force LS. In case you are not familiar with the company, Phison is a Taiwanese manufacturer of NAND flash controllers since 2000. In the past, they have focused on non-SSD applications like USB flash drives. The Phison PS3108-S8 has recently gained a lot of popularity among manufacturers looking to sell value oriented SSDs due to its low price. Furthermore, it allows smaller players to easily bring a finished product to market. In contrast, companies like Marvell supplies only the silicon, but manufacturers will need to develop their own firmware. Not everyone can afford an in-house firmware development team, and as such, offerings from companies such as Phison provides a very attractive package.
With that said, there is not a whole lot of information floating around that talks about how the Phison PS3108-S8 works. To pay a little bit of tribute to Jeremy Clarkson -- and hopefully we will still see the last three episodes of Top Gear somehow -- "Some say it is an eight channel controller. Others say it comes with DevSleep. All we know is, it is called the PS3108-S8!" In all seriousness though, it is an eight channel controller with device sleep support, plus the usual deal of things like TRIM and SMART.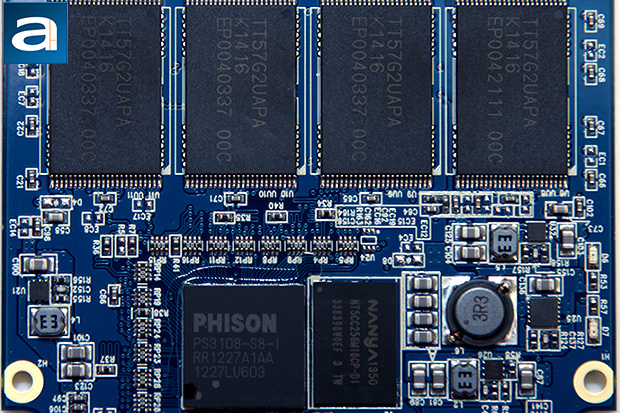 A total of sixteen NAND flash chips are found on the Silicon Power Slim S80 240GB solid state disk, with eight on each side. The chips used are Toshiba TT57G2UAPA flash memory, with a capacity of 16GB per integrated circuit chip. These are toggle mode multi-level cells manufactured on the 19nm fabrication process. 16GB out of the 256GB total capacity (Just under 7%) is provisioned for the drive controller for overhead, so the actual usable space is 240GB, as advertised. You will see 223GB in Windows. One Nanya NT5CC256M16CP 256MB DDR3 chip is present; used with the Phison PS3108-S8 controller to ensure smooth operation.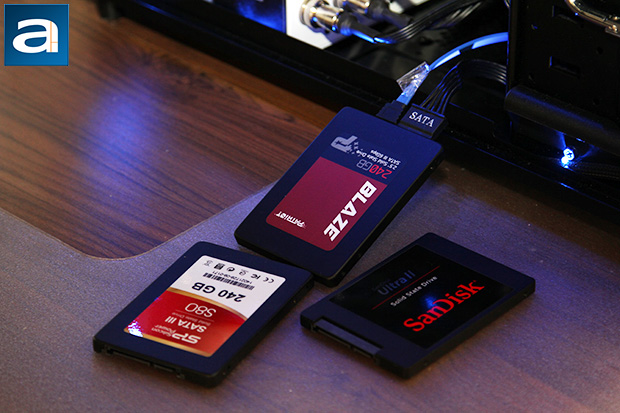 Our test configuration is as follows:
CPU: Intel Core i7-3770K @ 4.6GHz
CPU Cooling: Noctua NH-U14S (2x Noctua NF-A15)
Motherboard: ASUS P8P67 WS Revolution
RAM: Kingston HyperX Savage HX324C11SRK2/16 2x8GB
Graphics: Gigabyte Radeon HD 7870 2GB OC
Chassis: SilverStone Temjin TJ04-E (Noctua NF-S12A PWM, Noctua NF-P12 PWM)
Storage: SanDisk Extreme II 240GB; OCZ Vertex 3 Max IOPS 240GB
Power: PC Power & Cooling Silencer Mk III 1200W
Sound: Auzentech X-Fi Bravura
Optical Drive: LiteOn iHAS224-06 24X DVD Writer
Operating System: Microsoft Windows 8.1 Professional
Compared Hardware:
- Silicon Power Slim S80 240GB
- Crucial MX100 256GB
- G.Skill Phoenix EVO 115GB
- Kingston HyperX 3K 240GB
- Kingston HyperX 120GB
- Kingston SSDNow V+200 120GB
- 2x Kingston SSDNow V+200 120GB RAID 0
- OCZ ARC 100 240GB
- OCZ Agility 3 240GB
- OCZ Agility 4 256GB
- OCZ Octane 512GB
- OCZ RevoDrive 350 480GB
- OCZ Vector 150 240GB
- OCZ Vector 256GB
- OCZ Vertex 2 160GB 25nm
- OCZ Vertex 2 60GB 34nm
- OCZ Vertex 3 Max IOPS 240GB
- OCZ Vertex 3.20 240GB
- OCZ Vertex 4 256GB
- OCZ Vertex 450 256GB
- OCZ Vertex 460 240GB
- Patriot Blaze 240GB
- Patriot Pyro 120GB
- Patriot Pyro SE 240GB
- SanDisk Extreme II 240GB
- SanDisk Extreme PRO 480GB
- SanDisk Ultra II 240GB
- SanDisk Ultra Plus 256GB
---
Page Index
1.
Introduction, Packaging, Specifications
2. A Closer Look, Test System
3.
Benchmark: AIDA64 Disk Benchmark
4.
Benchmark: ATTO Disk Benchmark
5.
Benchmark: Crystal Disk Mark 3.0
6.
Benchmark: HD Tach 3.0.1.0
7.
Benchmark: HD Tune Pro 4.60
8.
Benchmark: PassMark PerformanceTest 8.0
9.
Benchmark: PCMark Vantage
10.
Conclusion