Page 2 - A Closer Look, Test System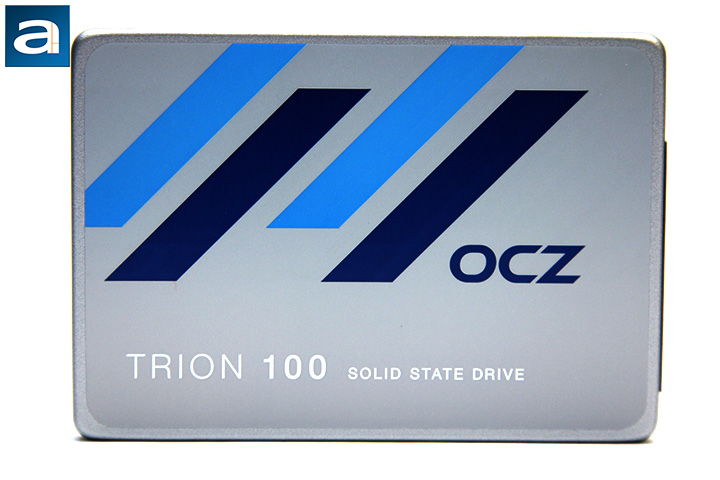 As always, before we move onto the fancy technical details about OCZ's latest value oriented solid state drive based on the Toshiba TC58 controller, let us briefly discuss the physical attributes of this SSD first. The OCZ Trion 100 takes on the new design language we have seen with the OCZ ARC 100 240GB my colleague Aaron Lai reviewed in October 2014, and the OCZ Vector 180 240GB I reviewed about three months ago. Featuring rounded corners and a large label with OCZ's branding and logo covering the entire front surface, the graphics on the OCZ Trion 100 480GB is a clean and good looking. You can discern between product lines based on the color scheme used. This white label on top of the flat aluminum cover is present to ensure the user will make no mistake that this is a Trion 100 series drive, but you will not find its capacity until you look at the back.
Measuring in at 100mm wide, 69.85mm deep, and 7mm tall, its thickness -- or lack thereof -- will ensure wide compatibility. It is also very light at 48g, which is less than half the weight of other OCZ drives we have seen in the past. OCZ Trion 100 drives will have no problems fitting into your laptop hard disk bay if you want to boost mobile computing performance, considering pretty much all new laptops have 7mm bays. On the other hand, if you want to use it in your desktop and your chassis has no 2.5" mount, then you will need to find your own solution, since the OCZ Trion 100 comes with no accessories. Nowadays, it is hard to find a case without a 2.5" drive bay, and considering this is a barebones value drive, I am not complaining.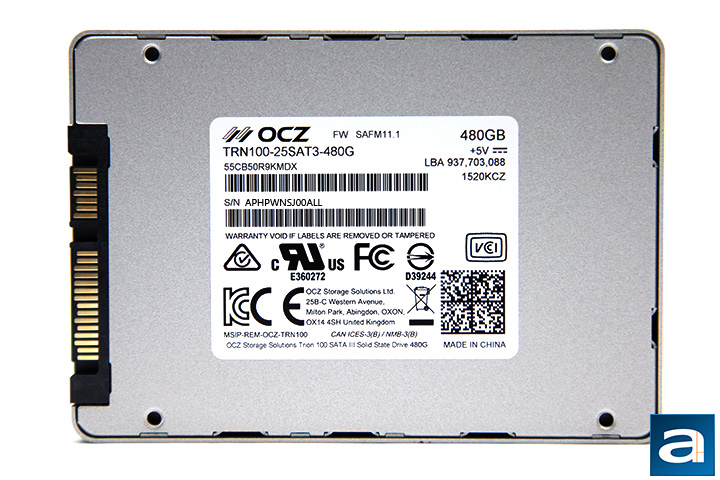 Turning the SSD around reveals a flat metal backplate. This is something users will come to expect from a solid state drive, as there are no exposed printed circuit boards like you would normally see with a traditional hard disk. The only thing that is common between the OCZ Trion 100 480GB SSD and a traditional hard disk drive is its SATA 6Gb/s and corresponding power connector at the end. As shown in our photo above, you will find a large label with the usual series of certification logos, along with information such as the brand, capacity, and serial number. In case you missed it, our particular unit is the OCZ Trion 100 480GB, haha. Unlike other OCZ SSDs, this one is made in China rather than Taiwan, and I will explain why in just a moment.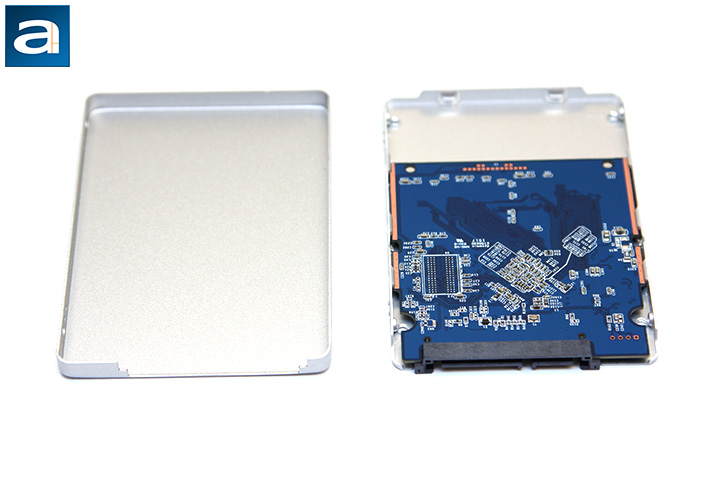 Moving on, the OCZ Trion 100 480GB's shell is attached to the aluminum backplate by friction clips only, just like the Crucial BX100 500GB. As aforementioned, a quick pry, and you will be well on your way inside. No screws, no warranty seals; nothing. As such, you will not void your three year ShieldPlus warranty. ShieldPlus is OCZ's term for advance replacement, free return shipping, with no requirement for an original receipt. For an SSD manufacturer, this is one of the best warranty programs available in the market today. In case you are uncomfortable with taking apart your brand new SSD, to save you some trouble, I cracked mine open to take some photos of its internals for you to see. Surprisingly, you will not find a full sized PCB, but rather, one that occupies about only two-thirds of the room inside. This is not as radical as the SanDisk Ultra II 240GB, but I swear I have seen something like this before. Exactly where? Look no further than the Patriot Ignite 480GB, a Phison S10 based SSD. Upon closer inspection, one could say both PCBs are nearly identical. How can it be?
The answer comes down to the fact the OCZ Trion 100 480GB is not actually developed by OCZ. OCZ went bankrupt and was purchased by Toshiba in January 2014. Toshiba's share in the SSD market has always been on the OEM side, while OCZ always held a strong retail presence. As a result, the Japanese company allowed its American arm to continue business independently, but it did not take long for us to see exclusive use of Toshiba flash memory in all of OCZ's products. Toshiba also helped OCZ with its quality control and product validation, as well as working closely together on new products to optimize available resources between the two. To enter into the ultra-budget solid state drive market, OCZ needed an SSD using triple level cell flash memory to compete. Unfortunately, the Indilinx Barefoot 3 is incompatible, therefore they will need to find a new controller. Meanwhile, Toshiba has already been developing a TLC SSD. With Toshiba's engineering under the hood and OCZ's already established retail presence, the solution is simple: Take Toshiba's SSD, and sell it as an OCZ drive. The OCZ Trion 100 was born.
The heart of OCZ's Trion 100 480GB is the Toshiba TC58 controller. The PCB itself is held secure to the shell by more friction clips. As the drive controller is fundamentally very important to any SSD, let us dig more into the details of its brain.
Unfortunately, there is almost no detail surrounding the TC58 controller. Being traditionally focused on the OEM market, there is not a whole lot of need for Toshiba to let anyone know what is going on under the hood. What we do know is Toshiba has a close working relationship with Phison, and seeing the striking similarities between the OCZ Trion 100 PCB and the Phison S10 based Patriot Ignite, I doubt this is a coincidence. There is a pretty high chance the Toshiba TC58 is a Phison S10 loaded with custom firmware, adding features like quasi-SLC caching. At press time, I am not aware of any S10 based drives with TLC chips, so it will be interesting to see how this turns out in our benchmarks today.
The funny thing is, there is little we know about the Phison S10 as well. The controller is built on the 55nm fabrication process, and features a 120-bit ECC scheme. In case you are not familiar with the company, Phison is a Taiwanese manufacturer of NAND flash controllers since 2000. In the past, they have focused on non-SSD applications like USB flash drives. The Phison PS3110-S10 is an improved version of the PS3108-S8, which has recently gained a lot of popularity among manufacturers looking to sell value oriented SSDs due to its low price. The Phison S10 is an eight channel controller with device sleep support, plus a laundry list of stuff like End-to-End Data Path Protection, SmartECC, SmartFlush, GuaranteedFlush, TRIM, and SMART. The rated power consumption of OCZ's Trion 100 is 6mW sleep and 4.8W active.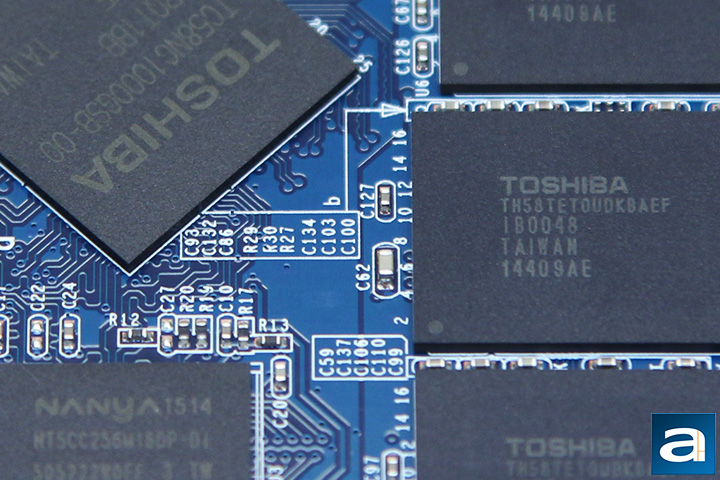 A total of four NAND flash chips are found on the OCZ Trion 100 480GB solid state disk, with all of them on the same side. The chips used are Toshiba branded flash memory labeled TH58TETOUDKBAEF, with a capacity of 128GB per integrated circuit chip. These are Toshiba manufactured triple-level cells manufactured on the 19nm fabrication process. Its rated write endurance is 120TB, which equates to about 65GB per day for five years. This is actually really good, considering it is more than some high end drives out there. 32GB out of the 512GB total capacity (Just under 7%) is provisioned for the drive controller for overhead, so the actual usable space is 480GB, as advertised. You will see 447GB in Windows. One Nanya NT5CC256M16DP-D1 512MB DDR3L-1600 chip is present; used with the Toshiba TC58 controller to ensure smooth operation.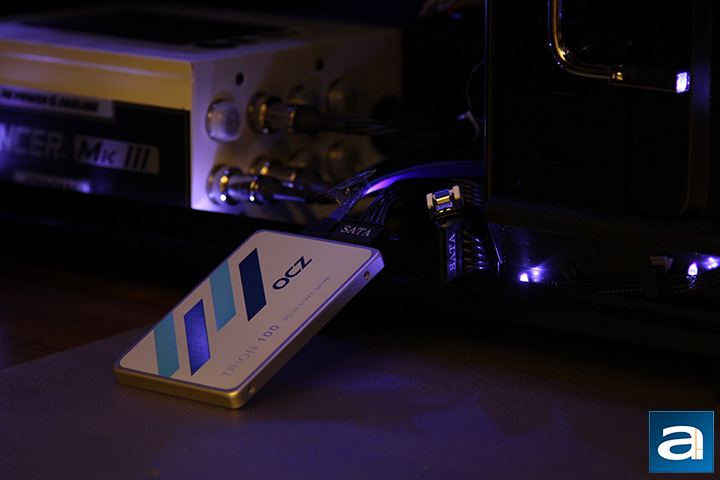 Our test configuration is as follows:
CPU: Intel Core i7-3770K @ 4.6GHz
CPU Cooling: Noctua NH-D15S
Motherboard: ASUS P8P67 WS Revolution
RAM: Kingston HyperX Savage HX324C11SRK2/16 2x8GB
Graphics: Gigabyte G1 Gaming GeForce GTX 960 4GB
Chassis: SilverStone Temjin TJ04-E (Noctua NF-S12A PWM, Noctua NF-P12 PWM)
Storage: OCZ Vector 150 240GB; Crucial MX200 500GB
Power: PC Power & Cooling Silencer Mk III 1200W
Sound: Auzentech X-Fi Bravura
Optical Drive: LiteOn iHAS224-06 24X DVD Writer
Operating System: Microsoft Windows 8.1 Professional
Compared Hardware:
- OCZ Trion 100 480GB
- Crucial BX100 500GB
- Crucial MX100 256GB
- Crucial MX200 500GB
- G.Skill Phoenix EVO 115GB
- Kingston HyperX 3K 240GB
- Kingston HyperX 120GB
- Kingston HyperX Predator PCIe 480GB
- Kingston HyperX Savage 240GB
- Kingston SSDNow V+200 120GB
- 2x Kingston SSDNow V+200 120GB RAID 0
- OCZ ARC 100 240GB
- OCZ Agility 3 240GB
- OCZ Agility 4 256GB
- OCZ Octane 512GB
- OCZ RevoDrive 350 480GB
- OCZ Vector 150 240GB
- OCZ Vector 180 240GB
- OCZ Vector 256GB
- OCZ Vertex 2 160GB 25nm
- OCZ Vertex 2 60GB 34nm
- OCZ Vertex 3 Max IOPS 240GB
- OCZ Vertex 3.20 240GB
- OCZ Vertex 4 256GB
- OCZ Vertex 450 256GB
- OCZ Vertex 460 240GB
- Patriot Blaze 240GB
- Patriot Ignite 480GB
- Patriot Pyro 120GB
- Patriot Pyro SE 240GB
- SanDisk Extreme II 240GB
- SanDisk Extreme PRO 480GB
- SanDisk Ultra II 240GB
- Silicon Power Slim S80 240GB
---
Page Index
1.
Introduction, Packaging, Specifications
2. A Closer Look, Test System
3.
Benchmark: AIDA64 Disk Benchmark
4.
Benchmark: ATTO Disk Benchmark
5.
Benchmark: Crystal Disk Mark 3.0
6.
Benchmark: HD Tach 3.0.1.0
7.
Benchmark: HD Tune Pro 4.60
8.
Benchmark: PassMark PerformanceTest 8.0
9.
Benchmark: PCMark Vantage
10.
Benchmark: PCMark 8
11.
Conclusion