Page 2 - A Closer Look, Test System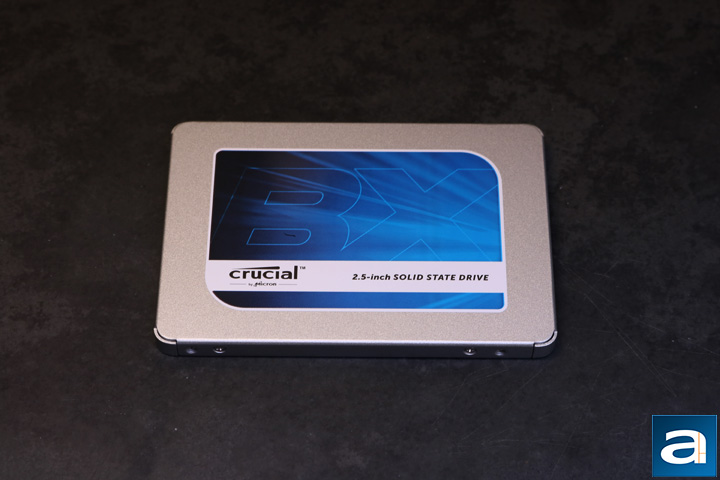 The Crucial BX300 comes in a premium looking silver casing. I find it has a sleek look to it instead of looking too industrial. Furthermore, the blue color of the sticker on the front with the white accents look quite nice in comparison with the silver color. The drive's series name "BX" is also found on the sticker. There are also lines starting on the right side and then moving towards the darker blue on the left. This gives it a feel that is moving fast, which will hopefully be true on the following pages. The capacity is not found on the front, but on the sticker on the back. Distinct lines exist where the top casing meets the bottom casing. The two shells do not fit together perfectly, which breaks the sleek modern look it has going. Unfortunately, this also makes the attempt at rounded corners fail, since there is now a bit of a bump. The Crucial BX300 240 GB is a standard sized solid state drive, coming in at 7 mm thick. This ensures wide capability across many different cases and even laptops if you want to improve its speed. There is also a spacer included for 7mm to 9.5mm to ensure that the BX300 would fit in a wide array of laptops.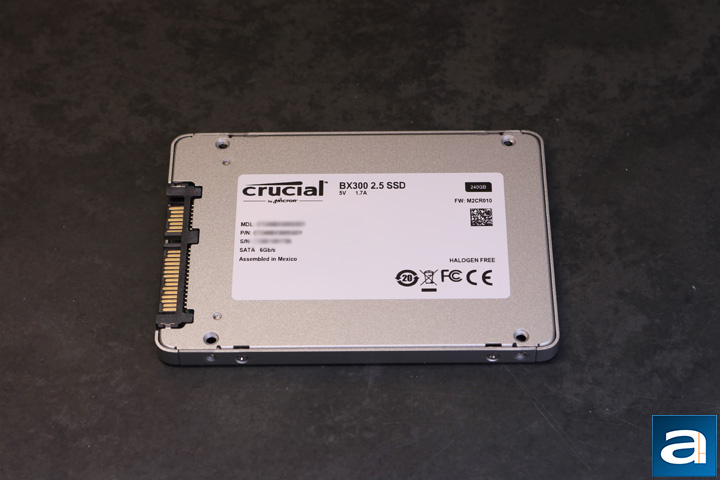 The back of the solid state drive is just as simple as the front. The sticker is mostly white with all information written in small font. The Crucial name is listed in the top left, while the series and size is listed next to it. The capacity is listed in the top right corner. Also on the back is that it is SATA 6Gb/s drive. There is nothing else special found on the back except for the SATA connector. All in all, the back continues the sleek silver look with just a few more breaks where the casing meets the top casing.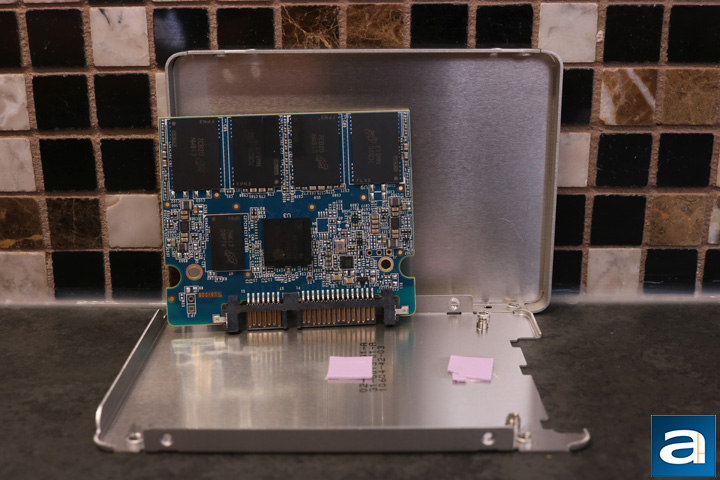 The casing is quite easy to remove. There are two screws on each side. After removing them, the casing easily comes off. The actual hardware inside is quite a bit smaller than the metal housing. As you can see I accidentally broke one of the thermal pads when I removed it from the circuit board. The 3D MLC NAND inside should be able to give us consistent performance, power efficiency, and good capacity for the price. Both the sequential read and writes are rated to go over 500MB/s, while the random read is 84K IOPS and the random write is 90K IOPS. The drive also has a couple of nice features included to give it a boost in experience. These features include multistep data integrity algorithm, thermal monitoring, SLC write acceleration, active garbage collecting, TRIM support, error correcting code (ECC), and device sleep extreme low power mode (DEVSLP). The controller the BX300 uses is the Silicon Motion SM2258, while the memory is Micron's DDR3 DRAM. All of these features should work together nicely for a decent performing drive.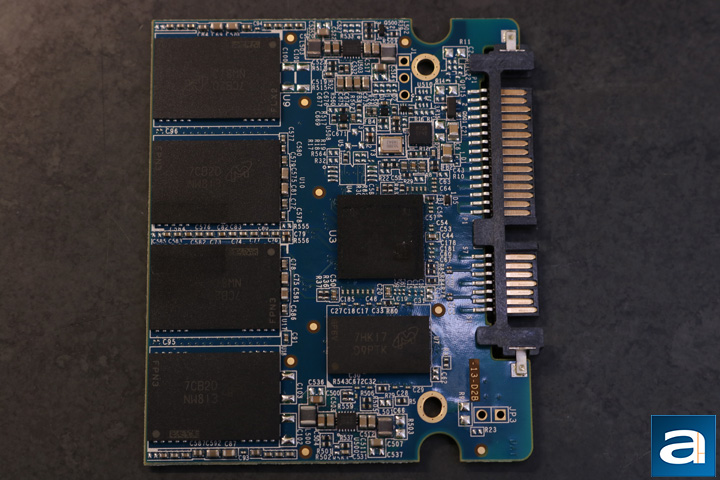 Of course, the part that really stands out about the Crucial BX300 240GB is its low cost flash memory ICs. A total of eight NAND flash chips are found on the Crucial BX300 240GB solid state disk, with four on each side. The chips used are Micron's own 7GB2DNW818 32-layer 3D MLC NAND flash memory, with a capacity of 32GB per integrated circuit chip. The drive also has quite good endurance. It is rated at 80TB, which amounts to about 44GB/day for five years. This is not the best ratings in the world of consumer SSDs, but it is not bad either, especially for a budget drive. The drive should be able to stand up against everyday use for quite a number of years if nothing goes wrong. The inclusion of the Acronis True Image HD software is also quite considerate to make migrating data from an older drive to this drive much easier. All in all, the Crucial BX300 looks like it should perform quite well in all our benchmarks for its class.
Our test configuration is as follows:
CPU: Intel Core i5-6600K @ 3.9GHz (Stock settings)
Motherboard: ASUS Z170-E
RAM: Kingston HyperX Fury HX421C14FBK2/16 2x8GB
Graphics: ASUS GeForce GTX 1060
Chassis: SilverStone Kublai KL07
Power: Corsair RM650X 650W
Storage: Kingston SSDNow UV400 480GB; Seagate BarraCuda ST1000DM003 1TB
Operating System: Microsoft Windows 10 Home x64
Compared Hardware:
- Crucial BX300 240GB
- Crucial BX100 500GB
- Crucial MX100 256GB
- Crucial MX200 500GB
- Crucial MX300 750GB
- G.Skill Phoenix EVO 115GB
- Kingston HyperX 3K 240GB
- Kingston HyperX 120GB
- Kingston HyperX Predator PCIe 480GB
- Kingston HyperX Savage 240GB
- Kingston SSDNow UV400 480GB
- Kingston SSDNow V+200 120GB
- 2x Kingston SSDNow V+200 120GB RAID 0
- OCZ ARC 100 240GB
- OCZ Agility 3 240GB
- OCZ Agility 4 256GB
- OCZ Octane 512GB
- OCZ RD400A 512GB
- OCZ RevoDrive 350 480GB
- OCZ Trion 100 480GB
- OCZ Trion 150 480GB
- OCZ Vector 150 240GB
- OCZ Vector 180 240GB
- OCZ Vector 256GB
- OCZ Vertex 2 160GB 25nm
- OCZ Vertex 2 60GB 34nm
- OCZ Vertex 3 Max IOPS 240GB
- OCZ Vertex 3.20 240GB
- OCZ Vertex 4 256GB
- OCZ Vertex 450 256GB
- OCZ Vertex 460 240GB
- Patriot Blaze 240GB
- Patriot Hellfire M.2 240GB
- Patriot Ignite 480GB
- Patriot Pyro 120GB
- Patriot Pyro SE 240GB
- SanDisk Extreme II 240GB
- SanDisk Extreme PRO 480GB
- SanDisk Ultra II 240GB
- Silicon Power Slim S80 240GB
- Toshiba OCZ TL100 240GB
- Toshiba OCZ VX500 512GB
---
Page Index
1.
Introduction, Packaging, Specifications
2. A Closer Look, Test System
3.
Benchmark: AIDA64 Disk Benchmark
4.
Benchmark: ATTO Disk Benchmark
5.
Benchmark: Crystal Disk Mark 3.0
6.
Benchmark: HD Tach 3.0.1.0
7.
Benchmark: HD Tune Pro 4.60
8.
Benchmark: PerformanceTest 9.0
9.
Benchmark: PCMark Vantage
10.
Benchmark: PCMark 8
11.
Conclusion