Page 2 - A Closer Look, Test System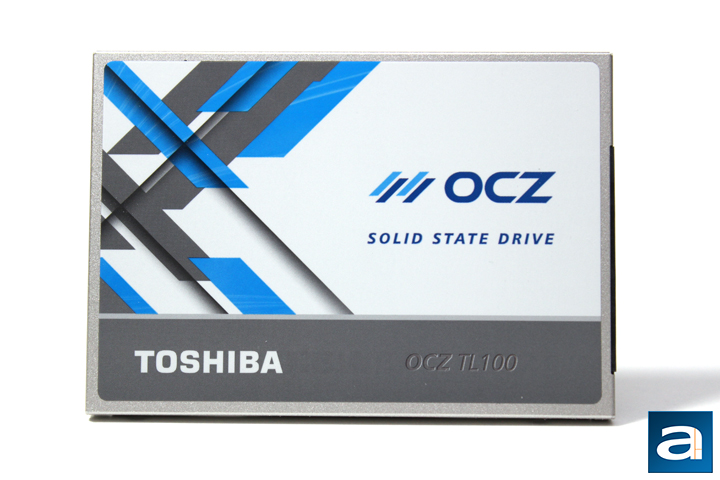 Interestingly enough, if you think you may have seen this solid state drive before, you would not be entirely incorrect. While this is a new model for us at APH Networks, the design of the Toshiba OCZ TL100 has been taken from the OCZ Trion 150, at least in terms of the label. Of course, there still is the Toshiba branding and touches, with the gray bar at the bottom, just like the retail container. In addition, gone are the rounded corners, and they are replaced with sharp rectangular corners. Unless you are rubbing the drive around your face all the time, this is not a huge issue though, but I kind of liked the rounded corners more. Overall, the look is clean, and since it borrows from the Trion's design, it also gives some idea to how well it should perform, though we will see what this means later on in our testing. Interestingly enough, the capacity of the drive is actually not shown on the top, which I think would be nice, but it is not a big deal either. Otherwise, the enclosure is all aluminum, which is pretty standard for solid state drives, and feels solid enough.
Measuring in at 100mm wide, 69.85mm deep, and 7mm thick, this should fit into any application, whether on a desktop computer or in a thinner notebook. Nowadays a lot of thin notebooks are moving to M.2 format drives, but some still have spacing for the standard 2.5" format. This also tips the scales at a very slim 37.5g, which is 10.5g lighter than the OCZ Trion 150. If you did want to use it in your desktop and your chassis has no 2.5" mount, then you will need to find your own solution, since the Toshiba OCZ TL100 comes with no accessories. However, it is hard to find a case without a 2.5" drive bay, so this should be a nonissue.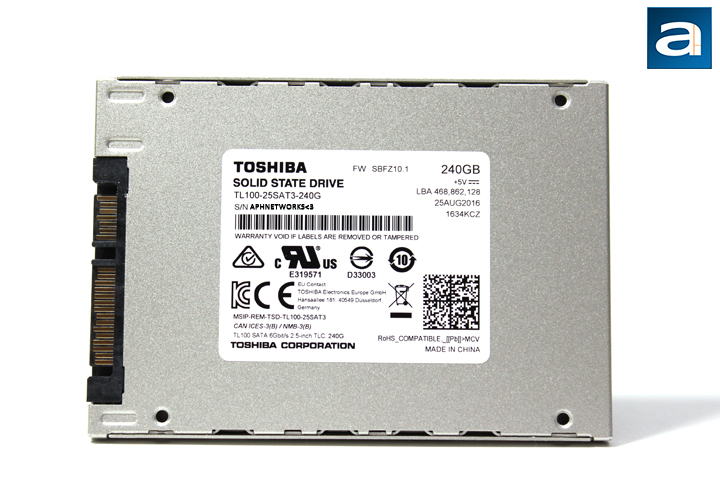 On the flip side of the SSD we have a flat metal backplate, which is pretty typical for a solid state drive. On the left are the SATA 6Gb/s and power connectors. In addition, you will find a label on the back, showing all of the certification logos, and other useful information like the brand, capacity, serial number, and manufacturing date. As you can see, my unit was made on August 25, 2016. Similar to the OCZ Trion 150, this TL100 was also made in China. In case you missed the title, this is the 240GB version.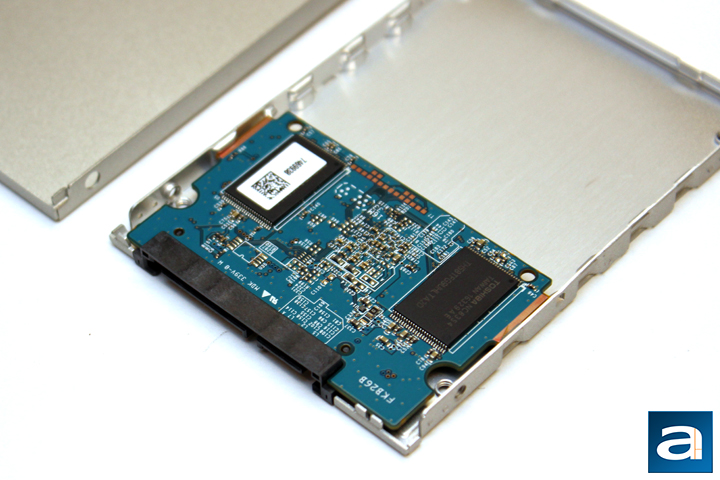 Proceeding forward means taking off the shell of the Toshiba OCZ TL100 240GB. The enclosure is kept together with friction clips, rather than using any screws. Thus, a quick pry and you should be able to open up this drive. Inside you will find there are no screws either or warranty seals, so this should not void your three year Advanced Warranty from Toshiba. Of course, not everyone is comfortable with doing it, so we have opened up our unit to save you the trouble.
Since the acquisition of OCZ by Toshiba, every one of their drives have been manufactured using Toshiba parts, which is only natural. As such, the first thing we can see from the shot above are two Toshiba NAND flash chips. A total of four of these Toshiba TH58TFG9UHLTA2D chips are found around the PCB, which is understandable considering these are 64GB per integrated circuit chip. These are Toshiba manufactured triple-level cells or TLC are on the 15nm fabrication process. They have a rated write endurance of 60TB, which equates to approximately 54GB per day for three years. It should be noted this is about the same as the OCZ Trion 15 when comparing with similar capacities. It may not necessarily be great, but these numbers will definitely be fine for a budget SSD.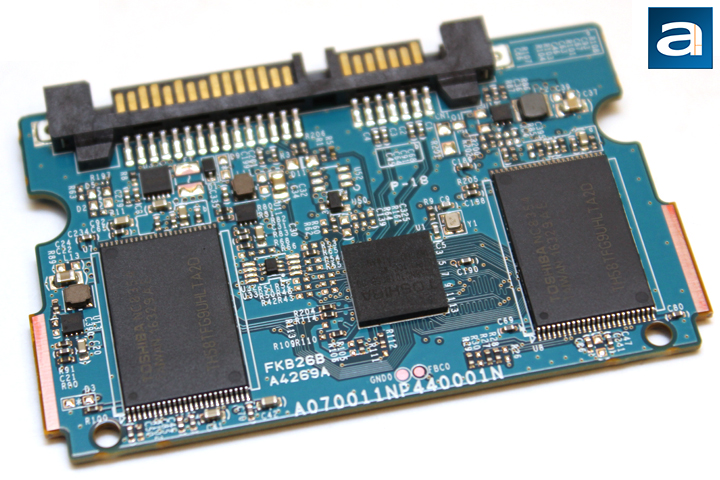 At the heart of the Toshiba OCZ TL100 240GB is the Toshiba controller, the TC58NC1010. This is very similar to the Trion 150's TC58NC1000, except the TL100's controller supports DRAM-less operation. As such, no DRAM chips are found on this solid state drive. This will definitely adversely affect performance on situations of deeper queue depths, but we will see what this means later on. Unfortunately, the similar controller also means we do not have a whole lot of other information on the controller. Some say it is similar to the Phison S10, which we also have little information about, but this may just be speculation. From what we do know, there is support for device sleep, in addition to TRIM and SMART. The rated power consumption of the Toshiba OCZ TL100 240GB is 10mW sleep, 440mW idle, and 1.5W active. These consumption numbers are actually quite a bit lower, at least for idle and active, which should bode well for more portable situations.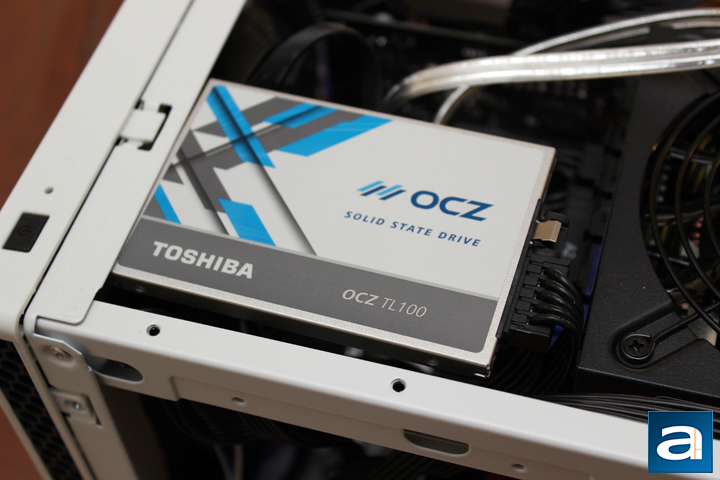 Our test configuration is as follows:
CPU: Intel Core i5-6600K @ 3.5GHz
CPU Cooling: Cryorig C7
Motherboard: Gigabyte GA-Z170N-Gaming 5
RAM: Patriot Viper Elite PC4-24000 2x8GB
Graphics: EVGA GTX 760 2GB
Chassis: SilverStone Sugo SG13WB
Storage: Patriot Ignite 480GB
Power: SilverStone SX700-LPT 700W
Sound: Integrated
Operating System: Microsoft Windows 10 Pro
Compared Hardware:
- Toshiba OCZ TL100 240GB
- Crucial BX100 500GB
- Crucial MX100 256GB
- Crucial MX200 500GB
- Crucial MX300 750GB
- G.Skill Phoenix EVO 115GB
- Kingston HyperX 3K 240GB
- Kingston HyperX 120GB
- Kingston HyperX Predator PCIe 480GB
- Kingston HyperX Savage 240GB
- Kingston SSDNow UV400 480GB
- Kingston SSDNow V+200 120GB
- 2x Kingston SSDNow V+200 120GB RAID 0
- OCZ ARC 100 240GB
- OCZ Agility 3 240GB
- OCZ Agility 4 256GB
- OCZ Octane 512GB
- OCZ RD400A 512GB
- OCZ RevoDrive 350 480GB
- OCZ Trion 100 480GB
- OCZ Trion 150 480GB
- OCZ Vector 150 240GB
- OCZ Vector 180 240GB
- OCZ Vector 256GB
- OCZ Vertex 2 160GB 25nm
- OCZ Vertex 2 60GB 34nm
- OCZ Vertex 3 Max IOPS 240GB
- OCZ Vertex 3.20 240GB
- OCZ Vertex 4 256GB
- OCZ Vertex 450 256GB
- OCZ Vertex 460 240GB
- Patriot Blaze 240GB
- Patriot Ignite 480GB
- Patriot Pyro 120GB
- Patriot Pyro SE 240GB
- SanDisk Extreme II 240GB
- SanDisk Extreme PRO 480GB
- SanDisk Ultra II 240GB
- Silicon Power Slim S80 240GB
- Toshiba OCZ VX500 512GB
---
Page Index
1.
Introduction, Packaging, Specifications
2. A Closer Look, Test System
3.
Benchmark: AIDA64 Disk Benchmark
4.
Benchmark: ATTO Disk Benchmark
5.
Benchmark: Crystal Disk Mark 3.0
6.
Benchmark: HD Tach 3.0.1.0
7.
Benchmark: HD Tune Pro 4.60
8.
Benchmark: PassMark PerformanceTest 8.0
9.
Benchmark: PCMark Vantage
10.
Benchmark: PCMark 8
11.
Conclusion